Keep your hope alive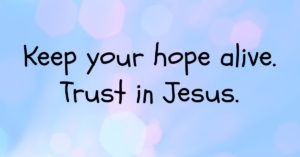 Beloved Heart, I am with you now. Can you feel my presence? Quiet your heart and mind and rest in my love that I am pouring over you right now. Let every little concern and worry flutter out the window of your mind and heart and let my refreshing rains cleanse your spirit.
I am going to be with you to help you turn things around in your life that you have been asking me about. It's not always a quick process. All I ask is that you turn it over to me and wait patiently, for I will guide your steps at the right time. Things will start falling into place.  I've got a plan.
Keep your hope alive by reading my Word. Feed your mind with my promises and stand on those to help you through these times.  Trust in me. Be encouraged today. I am with you. I am for you. Victory is on its way!