Let me lift those burdens off of you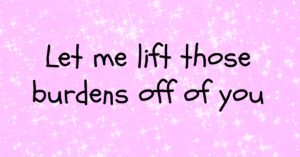 Beloved Child, I hear you. I know what concerns you. I know what troubles you. I know what makes you feel anxious or worried. Come to me and let me lift those burdens off of you. One at a time. I have just what you need to bring peace to your heart and mind.
I tell you not to worry, but I do understand how it can be difficult for you to not worry.  I want it to become unnatural for you to worry rather than it being the norm.  When thoughts race through your mind that disturb your peace, stop what you are doing and come have a heart to heart with me. Tell me all about it.  I will help you work through your thoughts that will put your mind to rest.
If you only knew how excited I get when you come and talk to me.  I want to be your very best friend. I will be your constant companion in life. I will never leave you and will support you always, giving you fresh new insight and wisdom into how you should walk through your days.  Be refreshed this day to know that I am pouring down buckets of my love and grace upon you.  Let my love flow through you and rest in my perfect peace.